Morgy's Little Black Book
Morgan McGlone is a third generation chef who is first and foremost, a food nerd. His favourite book as a child was a cookbook and he would make various dishes from it for his family with his dad providing encouragement from the sidelines.
Starting out at culinary institutions in Sydney including Summit and Luke Mangan's CBD Salt Restaurants, Morgan moved on and head to the States where started his own catering and chef agency in Los Angeles and New York.
He is best known for his much-lauded French Bistro, Flinders Inn in 2009, co founding TOYS (Taste of Young Sydney), working as the Chef de Cuisine at Husk, then returning to Australia to open the success that is Belles Hot Chicken with partners Reno Pontonio and Miranda Campbell, and then to continue their successful business partnership opening Bar Clarine in 2015.
Morgys favourite tunes to cook to...
1. Flamenco Sketches - Miles Davis
2. I think ill just stay here and drink - Merle Haggard
3. Plus Je T'embrasse - Blossom Dearie
4. Le Cygne - Hanna Sang
5. Fake Plastic Trees - Radiohead
How to eat like Morgy at Boon Cafe
Fresh cold pressed Green Juice &
Single Origin Latte
Stir Fried Chicken, Squid and Holy Basil
Boon Omelette with Brown Rice
(only before 11am)
Chicken sandwich recipe
from Belles Hot Chicken by Morgan McGlone
Ingredients:
1 X 140g chicken thigh fillet, boneless , skin on.
1 burger bun (Breadtop)
2 slices high melt cheese (Kraft singles)
1/4 wedge iceberg lettuce
15ml each Mayonnaise, tomato ketchup, American yellow mustard
Salt and Pepper

Spicy seasoning (smoked paprika,cayenne pepper, onion powder, garlic powder, salt and pepper)

Seasoned flour.
Method:
Flour chicken thigh fillet and allow to sit for 4 hours in fridge to develop flour glue.
Re flour chicken fillet and cook in small deep fryer for 9 mins at 178 degrees.
toast bun and liberally spoon mustard , tomato sauce and mustard on both sides.
once thigh is fried take out of fire and season well with salt and pepper and spicy mix.Place cheese is on top of chicken and transfer to bun.
season lettuce well and place on top of melted cheese .
eat immediately.
it's awesome with Natural wine.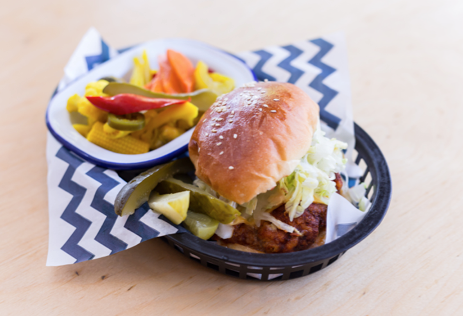 The Home of Morgy's Fried Chicken Influence Husk
Morgy's Sydney Restaurant Picks