Matt Moran is the well‐known Australian chef and restaurateur of a number of successful restaurants including ARIA Sydney, ARIA Brisbane, CHISWICK, Opera Bar,Riverbar & Kitchen, North Bondi Fish and CHISWICK at The Gallery. In addition, he is the owner of ARIA Catering, an event company based in Sydney, Brisbane & exclusively at the Sydney Opera House. His restaurant business continues to grow with him recently announcing a new venue at Barangaroo on Sydney's foreshore.
Matts Fav Local - Huxton's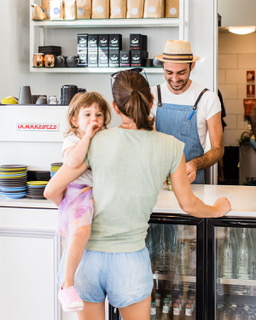 How to eat like Matt at Huxtons
The Huxtons Breakkie Bowl
The King Salmon with Avocado & Poached Eggs
Moran Family lamb with hummus, mint salsa and a salad of chickpeas and tomatoes
Lamb
1 x lamb Shoulder
1 x rosemary Sprig
2 x garlic cloves
1 tablespoon olive oil
salt and pepper
Pre heat oven to 115°
Place the lamb in a baking tray and drizzle with olive oil, season the lamb with salt and pepper then place the rosemary and thyme on the lamb.
Place the lamb in a pre-heated oven for 3 ½ hrs or until the lamb is tender and falls off the bone.
Hommus
100 g chickpeas
25 mls olive oil
15g tahini
1 clove garlic
½ lemon (juice)
1 teaspoon ground cumin
½ cup of water
Place chickpeas, olive oil, tahini, garlic, lemon juice and cumin in a blender and blitz for approximately 1 minute or until a paste is formed, add the water gradually until a puree consistency has formed, then season with salt and pepper.
Mint Salsa
10 g bread
30 mls milk
½ bunch mint
¼ cup parsley
½ clove garlic
150 mls grape seed oil
25 mls chardonnay vinegar
To prepare the mint salsa, soak the bread in the milk for 5 minutes then squeeze out all excess milk. Place the soaked bread, mint, parsley, garlic and grape seed oil in the blender and blitz for approximately 30 seconds or until all the herbs have broken down. Transfer the mixture to bowl and place over ice to cool down and ensure the herbs keep their colour. Once the mixture is cool add in the vinegar and season
Tomato and Chickpea salad
1 punnet cherry tomatoes (halved)
60 g chickpeas
½ Spanish onion (sliced)
3 basil leaves
3 coriander leaves
3 sprigs of dill
3 sprigs of parsley
10 mls olive oil
5 mls vinegar
Place the cherry tomatoes, chickpeas, Spanish onions, and herbs in a bowl, drizzle with vinegar and olive oil then mix well.
Place the hommus on the bottom of the plate and place the lamb on top. Place a small amount of salad to one side of lamb and spoon the mint salsa over the top of the lamb and serve.